Last week, Shelby was chosen as "Kid of the Week" for her class. She was very excited because she got to be the line leader and teacher's helper all week. In addition to those special privileges, she was able to bring something for show and tell each day. Friday, however was the best day for my kid of the week. She got to bring someone special to class. That someone special was yours truly!


I met her at lunch with her favorite, tator tots with cheese and popcorn chicken and a cherry coke from Sonic. We got to eat this yummy fast food while the rest of the kiddos were stuck eating cafeteria food. After lunch, I got to go outside and play with she and her friends on the playground! I must admit that this was just as much fun (maybe even more) for me than it was for her. She and her friends ran to the swings and I got to push them.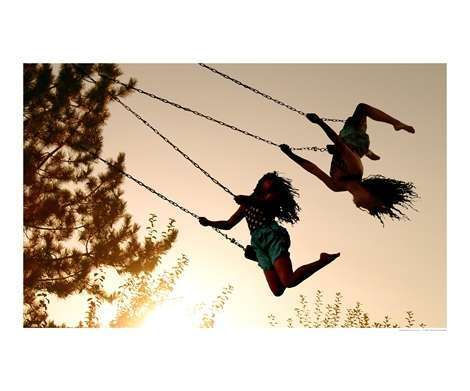 Pushing those little girls on the swings brought back so many school yard memories for me. You see, my best friend and I used to swing high on the swings at every recess. Well, there were times when I'd talk Becca into playing tether ball with me but for the most part we'd spend our time swinging. Eighteen years later, Bec is still my best friend and we'd swing every day if we could!

As I watched my daughter swing sky high with her friends, I thought back to my childhood, I wondered what I was thinking back then. I wonder what she thinks now. If only I could go back to those times when things were much more simple. A time when all you had to worry about was making it to the swings first. There are no worries about the economy, who will be our next president, or the price of a barrel of oil in a foreign country. I can only hope that I can protect her and shelter her from these worries as long as possible and that she can swing sky high for may years to come. Maybe these playground friends that she has made now will continue on into her adult life as well.


After our play ground time I got to go into class with her and read them a couple of stories. The kids were very well behaved and Shelby was very excited to have her books read in class. Her teacher told me as I concluded that I could easily have a job as a teacher. I giggled and told her thanks, but no thanks. Although there was a time in my life when I did want to be a teacher, but I think most women will say the same thing. I just don't think that I am teacher material!

Today, Shelby and her classmates are visiting the fire station and I plan to meet the class there. It should be great fun!